Did you know National Cell Phone Recycling Week is coming?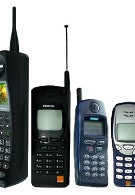 There might not be any Hallmark cards to mark the occasion, but April 5-12 is National Cell Phone Recycling Week. Visit any Verizon retail store and drop off your old cell phone models. Or you can print a pre-paid mailing label by pressing on this
link
. Proceeds from the phone donations go to HopeLine, a program that benefits the victims of domestic violence and develops awareness and prevention programs. Last April, more than 90,000 phones were donated to HopeLine by Big Red. The phones are recycled and are handed out to domestic violence survivors to help them make plans to stay safe and rebuild their lives. If you have that old Voyager or RAZR sitting in your desk drawer taking up space, why not put the old models to good use and drop them off at Verizon? After all, National Cell Phone Recycling Week IS coming.
source:
Verizon