Danger Hiptop PV-100 (T-Mobile SideKick II) information surfaced
5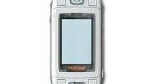 Danger Hiptop II (PV-100) is here! The device better known as T-Mobile Sidekick made the headlines in the beginning of 2002. The original version has grayscale 240 x 160 pixels screen and unique at that time sliding up screen design. A year later, the company released the updated version – Sidekick Color – with TFT display with 65k colors.
Today, information about the newest version surfaced. Sidekick II will sport built-in camera with flash, tri-band GSM operation (900/1800/1900 MHz – unlike the original which only worked on 1900), full QWERTY keyboard, picture ID, IMAP4/POP3 email, and Instant Messenger.
For more information, read our article.