DU Battery Saver can extend your Android phone's battery life significantly, here's our review
12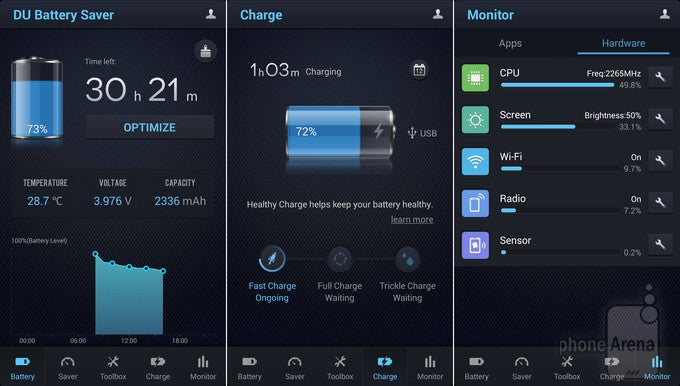 This story is sponsored by DU Apps Studio. PhoneArena's opinions in this article have not been affected in any way!
| | |
| --- | --- |
| Developer: DU Apps Studio | Download: Android |
| Category: Tools | Price: Free (with in-app purchases) |
Raise a hand if you wish your smartphone could last longer between charges. All hands up? Good. That means we're all on the same page. But as potent as smartphones have become, even the best among them can't seem to last more than a day or two without needing a battery top-up. And that's a bummer, we must add. Luckily, we have apps like DU Battery Saver.
DU Battery Saver is an Android application built with one goal in mind – to extend the battery life of Android phones and tablets as much as possible. In fact, its makers claim that it is capable of providing up to 70% extra battery life, which is impressive no matter how you look at it. Best of all, the app can be downloaded and used for free, along with its premium features, but more on that in a few minutes.
Launching DU Battery Saver takes us to a screen where we're presented with details about our phone's battery, including its temperature, voltage, and charge level. Also, the app provides an intelligent estimate as to how much time we have left until our battery dies, based on our current settings and usage pattern. But the true magic happens when we press that "Optimize" button. This instructs the app to start scanning for potential power leaks and for tweaks that can be made to improve our device's battery life. Sure enough, a scan confirmed that we had a few potentially power-draining apps that were running in the background.
The option to have multiple power profiles is one of our favorite features of DU Battery Saver. Basically, each profile is a list of settings that are applied, either manually, or at a given time. For example, you may have a profile configured for minimal power consumption, which can be turned on at night or while traveling, or a profile for the part of the day when you're at work, with all connectivity features enabled. In other words, you're given the freedom to adapt your handset's power requirements to your daily routine.
Now, we already said that DU Battery Saver is a free app. There are some premium features, however, that have to be unlocked either with an in-app purchase, or with virtual coins – features like automatic scanning for power-hungry applications, scheduler power profiles, and managing the processor's clock speed (root only). The good news is that these virtual coins are obtained easily by downloading apps recommended by DU Battery Saver. So technically, you may have a fully working version of DU Battery Saver without spending a cent.
So that's DU Battery Saver in a nutshell. Overall, it is a really promising app, and we'd recommend giving it a try if you're not fully satisfied with your Android phone's battery life, regardless of its make and model.
| | |
| --- | --- |
| Developer: DU Apps Studio | Download: Android |
| Category: Tools | Price: Free (with in-app purchases) |
Pros
Simple to use, but has advanced features for power users
Useful widgets
Free
Premium features can be unlocked without paying real money
Cons
Cannot control GPS via profiles