Cyber Monday mobile sales grow to a record number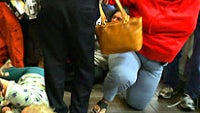 Cyber Monday is the year's second biggest shopping day, but when it comes to online purchases it might well be the largest one this year. Online shoppers are estimated to have spent $1.98 billion, the most ever, according to Adobe's Digital Index.
Mobile devices were a key part of the online shopping craziness that was November 26th. Sales from smartphones and tablets doubled this year. In tablets the growth was 110% and in smartphones - 100%.
And when it comes to the actual products that grew sales most, it was actually the Toys and Health and Beauty categories.
Curiously enough, social network referrals paid a tiny role in the madness. Social network referrals contributed only 2% to the sales, but those 2% were dominated by Facebook and Twitter, and Pinterest grabbed another 15%.
source:
Adobe
via
BGR