Cut the Rope is now on the BlackBerry PlayBook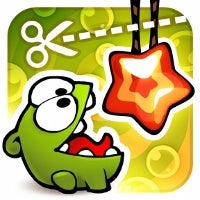 Have you picked up a cheap $199 PlayBook over the Holidays? Or are you just bored with the games currently available on the tablet? After Angry Birds arrived on the BlackBerry AppWorld, now CutTheRope and the adventures of Om Nom have also landed on RIM's tablet app catalog.
There's little chance that you haven't heard about CutTheRope, but just in case - it's a logical physics game where you need to feed the ever hungry Om Nom monster with candy hanging around the place.