Cricket Wireless CAPTR II will capture people with its $40 price
1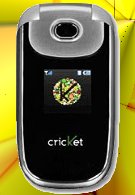 Cricket customers will have yet another inexpensive handset solution that should fittingly go well with the carrier's budget friendly wireless plans.
The CAPTR II, which is pronounced 'capture,' is now available for purchase through either Cricket Wireless retail locations and online for the affordable price of $40. This tri-band CDMA handset features dual displays, a VGA camera, speakerphone, Bluetooth, and connectivity to the carrier's mobile web services.
Sure it might not cater to heavy mobile users, but it should nonetheless prove to be more than capable of accomplishing the simplest of tasks – like calling obviously.
via
Phonescoop