Creepy Nokia Lumia 2520 ad is creepy
19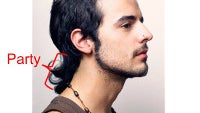 A new Nokia ad posted on YouTube yesterday is taking a rather creepy and cryptic approach to marketing its all new and powerful Lumia 2520 tablet.
We won't beat around the bush, it does seem like Nokia is trying to suggest that its Windows 8 RT tablet is much alike a... mullet? Are we to infer that the slate was as ill-conceived as the 80's hairstyle, then? We jest, of course – we actually liked what the Lumia 2520 had to offer – and theinvasive "For work. For play" slogan left little to the imagination. You know what, we'll just let you take a peek at the 2 minute odd ad right below. Comments section is all yours.
Piqued your interest? Great, now go on and check out our in-depth review of the Nokia Lumia 2520 here.