ConnectIn integrates LinkedIn contacts to Android
0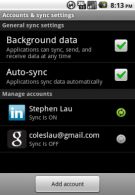 A new app from Stephen Lau, Senior Software Engineer of Rdio, integrates your
LinkedIn
contact information to your Android's contact list.
ConnectIn integrates photos, phone numbers, emails, status updates, and job titles to your native contact list. The app will also include a link by the contact in case you want to open their full profile in the browser.
If you're a professional with hundreds, if not thousands, of contacts, you'll appreciate the fact that their title and company will appear on your phone. You'll know that's pretty handy if you've ever had to pretend to know your caller.
As there is currently no official LinkedIn app for Android, ConnectIn should prove to be pretty popular. It's also quite a deal at $0.99, especially if you depend on LinkedIn for your many business contacts.
Follow the link below for the QR code, and further information.
source:
Whacked.net
via
Android Central