Coming to a Wal-Mart near you: iPhones
This article contains unofficial information.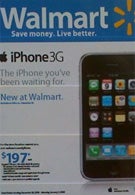 There has been a lot of speculation over the last few days around the web about giant retailer Wal-Mart selling Apple's iPhone in all of their stores by the end of the month. At one point, reports have hinted to a possible $100 4GB model! But it seems like Apple will be slightly reducing their 8GB model to a mere $197 instead. Yeah that's right, you'll be saving yourself a whole $2 if you buy it from the powerhouse retailer instead of a flagship Apple store. We have already seen some crazy deals with other coveted phones such as the Bold and G1, but adding Apple to its lineup can cause them to increase their market share. Now let's hope their employees can live up to the Apple's standard when it comes to providing useful and knowledgeable experience for their customers.
source:
MacRumors