Cingular launches new Palm 680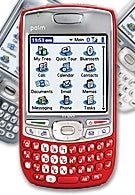 Palm Treo 680 is the latest smartphone available from the biggest phone carrier in the States. Running on Palm's own operating system, the Treo 680 is a successor of the 650 device that is still available from the Carrier. The new phone has internal antenna in the same Treo-styled body with full QWERTY keyboard and square touch-display, now with resolution of 320x320 pixels. It's camera is VGA (0.3-megapixels), without a flash.
Although it is not excellent, the phone is an interesting device, especially for the Treo lovers, and is at a reasonable price of $200 – same as the one of the Samsung BlackJack i607, which has HSDPA 3G.
via EngadgetMobile