Cingular launches couple of 3G Windows smartphones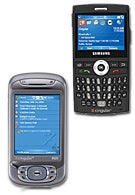 Finally they appeared on the US' biggest carrier site, and can be purchased – a couple of Windows Mobile-powered phones featuring HSDPA high-speed 3G data: the 8525 Pocket PC and i607 BlackJack Smarphone. The 8525 (TyTN) is manufactured by HTC and is successor of the 8125 (Wizard), bringing better camera, 400 MHz processor, and world-capable GSM/UMTS frequencies.
The BlackJack is Samsung's HSDPA Smartphone, successor of the i320; it is slim phone with landscape display and QWERTY keyboard, similar to the one of the Motorola Q. Unfortunately its UMTS is only dual-band for the States, and can't roam in Europe.
The 8525 and BlackJack are now available for purchase for respectively $400 and $200 after the rebates. As they prove earlier rumors, we also expect the Cingular Pearl to launch soon.
Source: Cingular