Check out this video of the SwiftKey Tablet software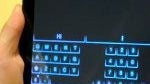 Check out this video of the Swiftkey Tablet software that has been designed for the Motorola Droid Xoom that is intended to make typing text on a larger screen a much easier and less stressful experience.
The application is ready to launch with the Droid Xoom, whenever that day may be. It was developed in partnership with Google and uses the Fluency prediction engine. The prediction engine is being utilized courtesy of TouchType and is in fact a patent-pending technology. Get this; it will actually try to predict what word you are going to type based on what it understands to be your personal writing style. That's pretty crazy, right?
So go ahead and check out the embedded video and tell us what you think in the comment section down below.
source:
Daily Mobile