Cell phone made using same technology as samurai katanas – Vertu Ascent Ti Damascus Steel
This article contains unofficial information.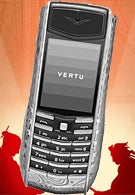 What is a self-respecting rich people supposed to do when they get bored with all these gold or platinum plated, diamond studded phones at hand? Well, they certainly go for the cool
Vertu Ascent Ti Damascus Steel
, that is not made of precious metals, but rather a special steel alloy that has been forged using old blacksmith´s recipe? For an instance, it´s continuously folded, hammer-forged steel that delivers improved tensile, bending and impact strength. We just need to tell you that the samurai katanas are forged and tooled using the same technology.
Each one of all 100 units of the Vertu Ascent Ti Damascus Steel is going to be hand-made and unique. Unfortunately, we still have neither information on the release date of the jewel, nor its expected price.
Source:
Sybarites