Cell phone jargon explained in an infographic
4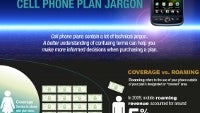 Long-distance calls, roaming charges and peak hour rates sound self-explanatory, but trying to get into the fine detail of those terms might often get confusing, especially in the pages of tiny print in cell phone contracts.
But failing to understand the way carriers shape their plans and the jargon they use might get you into deep trouble. Data charges in roaming are often horrendous, while if you know the peak hours you might save a couple of bucks from your monthly bill.
The infographic to the right explains all that, but manages to also give you details on the average American's talk time (13 hours a month). Curiously, you'll also get to know that 40% of tweets come from mobile devices and 200 million or 40% of Facebook's users access the social network through their phones. Anything surprising? Feel free to share in the comments below.
Thanks, Brad!