Caution: This is a rather violent iPad-Surface ad parody!
13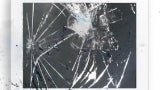 Violence seems to be everywhere these days - on TV, in books, video games, etc. Interestingly, the ads that we're so fed up with have managed to stay somewhat violence-free compared to the other content that we consume on daily basis.
But not this one. Whether due to the fact that it's fan-made, or some other reason, this is one of the most violent "advertisements" we've seen. Basically, it all starts with the innocent, white
iPad
playing its favorite piano melody, when, all of a sudden, it's joined by the
Microsoft Surface
, and that's when the music changes from sweet piano to dubstep - you know, the one from the Surface ad. What happens then? Oh, we wouldn't want to spoil the surprise for you, but we guarantee that it's quite unexpected, and even a bit gory.
via:
Gizmodo