California bans text messaging while driving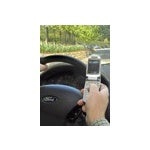 On Wednesday, California Governor Arnold Schwarzenegger signed legislation to make it illegal to text message while driving. When the law takes effect on January 1, 2009, it will be illegal to read, write, and send messages while on the road. The law carries a $20 fine for first time offenders, followed by a $50 fine for each subsequent text messaging offense.
The new law is part of the state of California's effort to cut cell phone distractions while driving. A previous law, enacted on July 1, 2008, made it illegal to hold a phone while driving, instead requiring users to use a handsfree headset. Additionally, drivers under the age of 18 are not allowed to use a cell phone under any circumstances while driving.
Source:
Mobile Burn