Calc+ is a powerful and pretty new calculator app for Android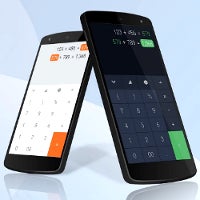 Done in the fashionable flat design style, the new Calc+ can do all your current stock or third-party calculator app can, and then some. It lets you touch individual elements of an equation to change them, saves your previous work to be used in new problems, and lets you share results easily.
The pretty interface lets you calculate numbers with operators, and display each calculation on one line, so you can follow your progress so far easily, in addition to one-tap editing, and reusing previous results. Said result are automatically updated when you edit numbers or operators, and you can save and share your progress so far, returning to your calculation at a later time. In addition, there are plenty of extra fonts and themes to choose from, following in the footsteps of the default Material design, Android L theme.