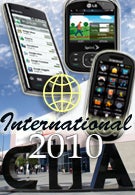 Samsung Galaxy S - Specifications
Samsung has been holding Unpacked events to commemorate the launch of either high-end devices or the ones they think will sell well. For the first time, such event was held here in the US. Unfortunately, the device unveiled will not be sold in the US, at least not before the summer when a US version is expected. Samsung Galaxy S is the company's latest and greatest addition to their line of Android based phones.
What really impressed us was the huge 4" Super AMOLED display. The Wave was the first phone to feature such display. Compared to regular displays, the Super AMOLED is supposedly 20% brighter, reflects 80% less direct sunlight and saves 20% battery life. Its quality is really spectacular – super contrast, colors and very large viewing angle.
The Galaxy S design is very simplistic and if not for the Samsung logo and the two touch-sensitive keys, we would have guessed it is the next iPhone. The profile is very slim for such huge device – only 9.9mm thickness.
The phone is powered by a 1 GHz Cortex application processor. In the most parts, the UI is very responsive, but we noticed some lag when opening several apps. This most probably is due to the early prototype status of the devices showcased here. Our expectation is to see one very well performing device once it is released.
Android
2.1
is the hype now and of course this is what Galaxy S comes with it. New with the Galaxy S is the Daily Brief feature, which combines the information from several widgets on one page. The phones here at the show only allowed this feature to be used with AccuWeather, Yahoo Finance, AP Mobile News and the Scheduler. Clicking on any of those from the Daily Brief would bring up that app in full screen.
If you happen to have DLNA certified TV, you'll be able to watch the HD videos you took with the Galaxy S without the need to use cables. Talking about HD video, the phone records 720p video with up to 30 fps, in addition to the HD video playback (DivX, Xvid and MKV are some of the supported format).
If 16 GB of internal memory are something that you can easily fill up, microSD memory slot is at your disposal. The Galaxy S is also the second device after the Wave to feature Bluetoth 3.0.
What it really comes down to is choice. Being able to choose between several different devices is what really counts. Gone are the days when there was one clear cut winner and one obvious choice. Samsung Galaxy S is really great in our opinion, but make sure you check out all other alternatives as well.
Stay tuned for our preview of the Galaxy S!