By year-end consumers will be buying more tablets than computers
9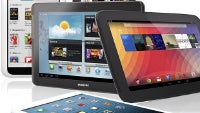 Google's Android and Chrome head Sundar Pichai is up on stage to introduce the new Nexus 7, but he had some exciting numbers to share about the fascinating growth of tablets.
In the last year alone, tablet sales have exploded and the big news is that by the end of the year
tablet sales will overtake PC sales
. What a monumental change in the paradigm. Total Android tablet activations have reached 70 million by the end of the first half of 2013.
"Almost one in two tablets sold worldwide is based on Android,"
Pichai explained.
Google Play also has grown tremendously marking a 2.5x growth in the amount paid to developers and app downloads have gone over 50 billion. Impressive numbers, aren't they?