Bluetooth supported glove phone is the latest in wearable technology
20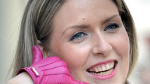 On the waves of a new movement into wearable technology, a new niche that includes Google Glass and smartwatches, comes a new product out of Britain. Designer Sean Miles of Designworks was given the job of creating something new out of recycled handsets. And what he came up with brings a new meaning to the saying "Talk to the hand".
Miles has come up with a Bluetooth connected glove that allows you to listen through the thumb and talk through the pinkie. This was not about making a marketable product, but was rather a challenge which Miles seems to have easily passed. "
The glove is a very good carrier for this kind of technology
," he says.
If you want to see this new technology in action, click on the video below.
source:
BBC
via
CNET