BlueAnt to launch Q1 noise cancelling headset
5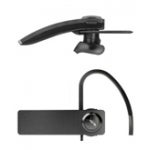 BlueAnt and their Bluetooth enabled products have achieved quite a reputable place in the market. The latest device which BlueAnt has planned to launch is named the Q1. The headset will feature a Dynamic Receive Signal Frequency Equalization, the ability to connect two phones at the same time, wind/noise reduction along with echo cancellation (enabled by the dual microphone), connections/pairing to take place automatically, auto volume control and 4 hours of talk time with 120 stand by.
Looks like that Aliph has set the bar high enough to have BlueAnt take on the Jawbone series.
The price of the headset is said to be around $129. It will be available from around summer 2009.
via:
Varologic