BlackBerry returns only to find itself in the friendzone?
40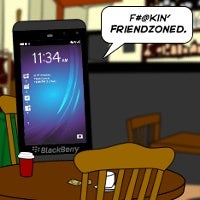 BlackBerry is back. Kind of. The company has unveiled two new devices - the all-touch
BlackBerry Z10
and the full QWERTY
Q10
, and pretty much all reviewers agree the devices are good.
As good as they are, they come a bit late to the party. And while everyone was on the crackberry just a couple of years ago, those times have now been forgotten as not only regular 'Berry fans, but even corporate clients have switched to iPhone or Android.
And as BlackBerry now returns it might find its previously loyal fans now in a healthy relationship with Apple or Android. What about you, are you ready to give BlackBerry some loving, or is it too late to fix a broken relationship?
source:
Joy of Tech