BlackBerry X10 stunningly realistic renders surface
20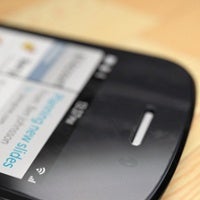 By now, you've all seen the
BlackBerry Z10
. The next big smartphone by Research In
Motion
has leaked all over the place, but what about the
X10
, the second, full QWERTY device that RIM is expected to bring?
We do know a little bit about it, but it hasn't leaked in the same vast amount as the Z10. Now, however, Martin Hajeck has taken on the task of fixing that with an extensive set of realistic renders.
Now, those are not real images, don't get fooled. But they do look close to what reality might bring. They are based on pictures of the X10 that surfaced in December. Take a look at the renders below and let us know - would you buy the BlackBerry X10 if it looked like that?
source:
Nowhereelse
BlackBerry X10 stunningly realistic renders surface