BlackBerry PlayBook app Tots helps kids with their ABCs and 123s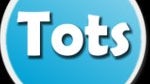 Tots is a new application that is now available on the BlackBerry PlayBook tablet that is geared towards children and will help teach them the letters of the alphabet and how to count numbers in a simple way.
The whole app is designed as an educational game. It will help children match up numbers in a "whack a mole" style game and also help to teach them how to write letters with step by step directional arrows. This isn't the only app geared towards children but it certainly has potential to be one of the best.
It is available right now for 2.99 from the BlackBerry App World. One of the guys over at CrackBerry got to go hands on with the app, so check out the video and tell us what you think in the comments below.
source:
CrackBerry