BlackBerry Pearl with WiFi
0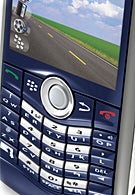 BlackBerry announced a variant of the Pearl, featuring integrated WiFi receiver. Otherwise similar to the original, the
Pearl 8120
can connect to local wireless LAN networks and use them to increase the signal coverage and decrease the calls price (UMA technology, which is what the T-Mobile HotSpot @Home is based on). Similar to the CDMA variant, the multimedia functionality is also slightly improved by adding 3.5mm stereo jack for standard headphones and video recording capability to the camera. The design and dimensions remain similar to those of the original BlackBerry Pearl.
Currently the Pearl 8120 availability is announced only for Spain, but as it is quad-band GSM/
EDGE
phone it can be used in GSM networks around the world.
source: BlackBerry