BlackBerry Bridge finally becomes a reality for AT&T customers
4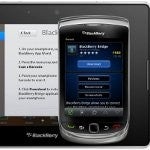 Well, that certainly took some time, but the inevitable is final here for
AT&T customers
as they're now able to download the
BlackBerry Bridge app
from the App World.
Brining on some much needed core functionality to RIM's tablet, like finally being able to see your calendar and emails on the BlackBerry PlayBook, the BlackBerry Bridge app is required to be installed on a BlackBerry smartphone in order for it to work jointly with the PlayBook. When BlackBerry Bridge first came lurking onto the scene, AT&T BlackBerry owners were sorely left out of the mix – though, they're now finally able to download it for free.
subscribe to a $20 per month tethering plan
in order to browse the web on the PlayBook as it's tethered to your network connected BlackBerry smartphone.
source:
RIM