BlackBerry Boys commercial shows how RIM's handsets are for everyone
1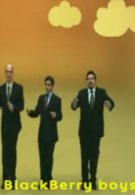 Taking a page out of the late 90s success of the many boybands making their mark during that time period, there appears to be a group of men dressed up in suits that call themselves the BlackBerry Boys.
If you take a quick peek at the music video, where they show off their slick dance moves and harmonious tunes, they tout at how they can accomplish just about anything with their sweet BlackBerry handsets. In fact, the video comes from Vodafone in India and definitely puts a spin on the long forgotten success of boybands.
Eventually, we find how RIM's products aren't just meant for business people in suits, but rather, for just about a broad mix of people. Still, it's a fairly catchy tune.
via
CrackBerry