BlackBerry Bold 9780 just might also be painting the town red
2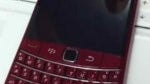 Although it's still not available for purchase, it looks like the soon-to-be here BlackBerry Bold 9780 will be painting the town red. And by that, we mean that it's going to be sporting a red paint job on top of the black and white models that are currently seen on RIM's web site.
In fact, the handset donning the slick alternative paint job was recently caught on video somewhere in Canada – so it could point to some Canadian carrier offering it first.
Even though we've seen a red painted BlackBerry Curve 8530 before, this one for the BlackBerry Bold 9780 can still nonetheless be considered appealing enough for some people who are tired of sporting the colorless options always known to accompany most BlackBerry handsets.
via
Unwired View