BlackBerry App World 2.1.0.39 offers in-app purchasing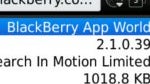 Officially available today, the latest version of the BlackBerry App world is ready for download and packs in some new wanted features.
Granted that
version 2.1.0.39
has been available through the BlackBerry Beta Zone for a few weeks now, it's now here for the taking. Some of the new features include
in-app payments, the ability to filter featured items, and an extended BBID Login Session
. Naturally, in-app payment will seemingly come to be a relatively new thing for some BlackBerry users out there, but developers are also surely going to grasp the new feature as well.
Since its beta run went off so smoothly without any major issues, it's only fitting to see it in full form so quickly - so check out your handset to download the latest update for BlackBerry App World.
via
CrackBerry