BlackBerry 8830 World Edition smartphone available with Verizon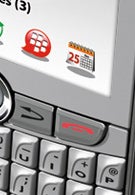 Verizon Wireless now offers the RIM BlackBerry 8830 as its World Edition smartphone that can work overseas, as it features dual-band GSM receiver to work in such networks around the globe. Domestically, it works on Verizon's CDMA/EV-DO network.
The 8830
is the CDMA/GSM hybrid version of the 8800 which is offered by both AT&T and T-Mobile. It is BlackBerry with full QWERTY keyboard, landscape QVGA display, microSD slot and media player but no camera. It is only 14mm thin and with glossy black surface, similar to the one of the Pearl. The 8830 is now available from Verizon, for $300 after mail-in rebate and two-year contract.
source:
PRNewswire