Black Milanese loop makes a premature appearance on Apple Stores, expected to go on sale in a week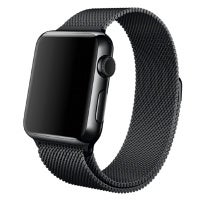 The
Apple Watch
is obviously getting a new and stylish band: a black version of the Milanese loop.
The new band made a stealthy appearance on a number of Apple Stores. It surface online in the Czech, Hungarian and Portuguese Apple Stores, and given that there is no official announcement or confirmation from Apple itself, this seems like a leak that the otherwise secretive company has somehow allowed.
Currently, the Milanese loop band is offered only in silver and costs $150. We expect that the black version will also carry the same $150 price.
The ship date that appears in the listing on the Apple Store (it's now been pulled) suggests Apple will start officially selling these new bands officially next week.