Between greatness and mediocrity: 6 unorthodox smartphone-connected wearables
4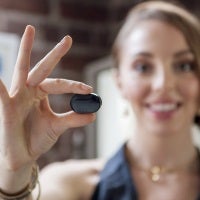 We are living in an age where micro-computers have made it possible to connect everything to another computer. You can connect a rock to a smartphone and make it report the distance you threw it at, the quality of the air it breezed through, and you can even record its impact with the ground (or a particularly unlucky human recipient) in glorious 1080p video.
For better or worse, the nascent wearables category hasn't reached this milestone (ba-dum-tss!) yet, but the market is already full of wearables stretching the connected concept to places limited only by imagination (and funding).
The six products we'll be presenting - well, we can't necesarilly call bad, but with the exception of the smartphone-connected suitcase that will delight James Bond, they aren't great either. We'll just call them "unorthodox" and let you make your own mind.