Best new widgets for Android (October 2016)
2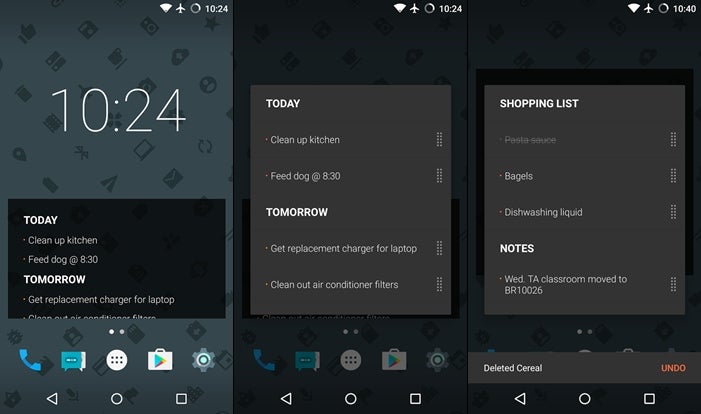 Do you use widgets on your Android device? If yes, good for you, if not, why not? After all, widgets are one of Android's fundamental features and not utilizing them is like driving your supercar only to the local Walmart - a true waste of great potential! It's true that other operating systems support similar UI features, but let's face it, none is as advanced as Android's take on the matter.
As we are pretty keen on customization and widgets are a major part of this ordeal, we scour the Play Store every two weeks and search for the very best new widgets. And why do we do this exactly? Simple, we want to regularly present to you the best and most noteworthy new widgets that get released on the Play Store. As it's rather hard to separate the wheat from the chaff, we do the hard work for you and show you all the notable new widgets that have arrived recently.
Trackr
We all know the struggle of keeping track the various goals we are trying to accomplish, be it the total amount of lost weight or whatever you're striving to achieve.Trackr is a new widget that enables you to track your goals conveniently straight from your home screen. You can set a start and due date for your goals and make sure you are on the right track when it comes to keeping up with your goals.
Stuff
We all live busy lives, with lots and lots of tasks to complete every day. With Stuff, you will have all of your everyday tasks conveniently displayed on any of your home screens. A pretty good-looking to-do widget.
Root Check Widget
Got root, or are you at least trying to root your device? Supposedly you have, and the process might not always be as easy as we might want it to be. This is where this handy widget comes into play - just place it on your screen and you will immediately know if you've successfully rooted your Android device.
Simple Weather & clock widget
No second opinion - the Play Store is chock-full of weather/clock widgets. This one is the latest addition to the flock, and we might say that it's not half-bad at all. It's simple as it should be - it provides you with only the most essential pieces of information straight on your home screen.
Notes Widget
Okay, we're all in for using Google Keep whenever possible, but having options is definitely one of the things we love the most about Android. If you are up for trying out a small-sized and simple Google Keep alternative for local note storage, then Notes Widget should definitely be high up your list. Don't expect any groundbreaking features, it's just a simple note-taking widget that simply works.
Calculator Widget
If you are a kind of person that uses calculator apps all the time, then this widget would probably be an intriguing one for you. It's a simple tool that is as foolproof as it gets - you just download, place it on your home screen, and you're ready to calculate percentages on the go. You can customize it by choosing one of the five onboard themes.
Speedometer widget
The concept behind this one is interesting - it's not your regular type of widget, but a small floating app that allows you to observe your current speed while you're using other apps.
X Clock Widget
How do you feel about analog clock widgets? Don't know about you, but we love these! X Clock Widget is one of the latest entries to the genre. While they are supposedly designed with Sony Xperia devices in mind, there's nothing stopping ou from trying these on any Android device you might have at hand.