Best new widgets for Android (October 2015)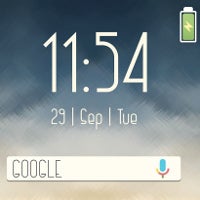 Although not every Android user makes full use of them on a regular basis, the home screen widgets that are natively supported by Google's OS are one of its fundamental functionality features. In general, widgets are
"miniature application views that can be embedded in other applications (such as the home screen) and receive periodic updates",
and are usually regarded highly by the Android community.
It goes without saying that if you take away Android's widget support, you are essentially stripping it away of one of its defining features. And we don't want to do this, do we? On the contrary, we want to regularly present to you the best and most noteworthy new widgets that get released on the Play Store. As it's rather hard to separate the wheat from the chaff, we do the hard work for you and show you all the new widgets that you should know about once every two weeks.
Here are some of the recent ones that caught our attention.
Vinty Widgets for Zooper Widget
Enter Vinty Widgets, a collection of 51 different skins for Zooper Widget Pro that go rather well with Vinty Icon Pack. The widgets on board include four digital clocks that also display the date, the battery level, as well as general weather info. Each of these is available in eleven different variations. That's not all, mind you - there are also two search widgets, four weather widgets, and two battery widgets.
Total Widgets
These widgets provide a whole-screen solution for your home screen. You can utilize a couple of widgets that provide general information about what's relevant to you. The most important one is most probably the news aggregator, which works with Google News, Reddit, NY Times, and others.