Best new widgets for Android (August 2015) #2
1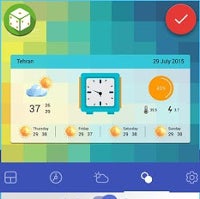 August is upon us, widget fans, and we won't leave you hanging! Your newest bi-weekly batch of new Android widgets is here, and as you probably know, you should be using these if you want to make full use of your Android phone's software capabilities. See, if we take away widgets out of the feature bag, we are easily stripping it from one of its defining features. And we don't want to do this, do we?
Apple's iOS also supports these though. While it doesn't bask in the same amount of customization options, Apple's platform still welcomes new widgets on a regular basis. From time to time, we will be highlighting some of the newer and top new iOS widgets as well.
This week is no different, as the fortnight's dosage of Android widgets is here. Scroll down and check out the notable new ones that you shouldn't miss at all costs.
Weather 360
This brand new weather app comes with its own widget, which is heavily inspired from Google's Material Design guidelines. Apart from showing you the weather in a predefined position, the widget also allows you to have a digital or analog clock, battery meter, and other modules.
Crippled
Excited about Fallout 4? If the answer is positive, then this pip-boy themed battery widget for your Androd device will likely make the anticipation easier to stomach.
Voltage Widget
Thanks to this handy widget, you can check out your phone's battery voltage levels. It displays the current value in mV, with the style and color of the text being modifiable to your whims.
SaySettings
This widget allows you to change a handful of device settings by using your own voice. You just need to tap the microphone widget, say your command, and see it fulfilled.
Winter Zooper Widget
This theme for Zooper widget gives you a nice whole-screen skin for your homescreen. It provides you with a lot of information at a glance while looking cool at the same time.