Best new icon packs for Android (September 2018)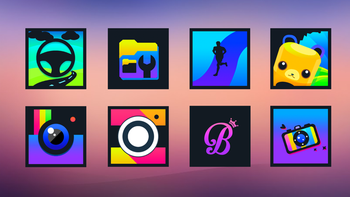 While the vast majority of Android consumers use their devices without customizing these at all, a smaller group of Android enthusiasts can hardly go for more than a week before overhauling the appearance of their homescreens. What can we say, we are guilty of that as well! Thanks to the multitude of icon packs arriving weekly on the Play Store, that's as easy as a pie.
This is why we regularly show you the icon packs that have recently made their way to the Play Store and deserve your attention. Have in mind that you'd normally need a third-party launcher in order to change your stock icons with some of the beautiful suites right. Note that as a rule of thumb these are usually compatible with all third-party launchers that support icon packs, such as Nova, Apex, etc.
Here follow the best new ones that have made it to the Play Store in September 2018.
While the developer has not revealed exactly how many icons does STAX exactly come with, we definitely dig the overall aesthetic, which is vibrant, stylish, and truly, pleasant to behold. Although the overall theme of this icon pack will not fit into most mainstream homescreen setups, it definitely deserves its time under the spotlights, and for all the right reasons.
Circular icons will never go out of fashion, and Pix-Pie is just the latest proof for that. Aside from a trove of icons, you also get a ton of matching wallpapers that remind us of the ones found on the Pixels lineup.

Love neon-y colors and that whole 80's 'outrun' aesthetics, perchance? With Momber, you get over 1,350 icons following this style, with all the most popular ones being included in the mix.

This one has a rather unique style - from up-close, the icons look like they're oil on canvas, which makes for a stunningly-different look in the digital age. There are over 700 icons as well as a multitude of high-quality wallpapers to complement the look.



Squareish is in with Ruvom, a new icon pack that looks great with its edgy and vibrant appearance. You will find a whole lot of over 1,350 icons on board, which is certainly more than enough for almost all Android users out there.