Best new icon packs for Android (September 2016) #2
8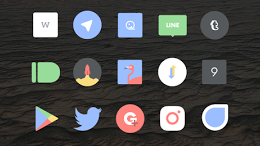 In case you've been around long enough, you've surely noticed that we here at PhoneArena are suckers for outstanding Android icon packs. Most people swear by "stock is best", and we can see why, but there's something alluring to a well-made icon pack — it just overhauls your interface so well.
Of course, for an icon pack to capture our attention, it needs to be exceptional right out of the bat. We don't care if it comes with 300 or 3,000 icons; we actually care about the visual presentation the most.
AS USUAL, BEAUTY IS IN THE EYES OF THE BEHOLDER
With Google Play seeping from the cracks with new icon packs every week or so, we've taken upon ourselves to separate the wheat from the chaff and highlight the notable new icon packs that grace Android. Here are our most recent recommendations:
Hexico
Hexagonal icons are not a common sight these days, but Hexico reminds us that these need and deserve a lot more recognition by the Android customization community.
Delta
There are just over 200 icons in Delta, but each of these is exceptionally well-made. If you care about minimalism the way we do, you'd likely go ahead and download Delta as soon as possible.
We do love cartoonish icon packs and were pretty pleased to stumble upon DarkMatter, as indubitably one of the better icon packs of that type we've seen so far.
Minimale
We suppose you might have already got bored with Material Design-styled icon packs, but these are better than average. With over 1,300 icons in store, Minimale is an icon pack that definitely delivers in terms of both quantity and quality. Definitely worth the $0.99 price.
Nflix
There are only 700 icons in Nflix, but the ones on board are mostly exceptional. With a bit over 700 icons inside, Nflix will fit nicely with any theme you might have in mind. It has great potential and we are hopeful that the developer will keep on with the excellent work.