Best new icon packs for Android (November 2015)
4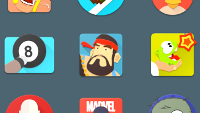 Changing the icon pack of your Android device and giving the UI a fresh new look is as easy as 1-2-3. There are just a couple of prerequisites that need to be met - you need a launcher that supports such a cosmetic overhaul, be it a custom or a stock one, and, of course, an icon pack that grasps your attention.
If you've stuck around with us for the past nine months or so, you've certainly stumbled upon our bi-weekly column that intends to present to you fresh new icon packs for Android. They are shiny, they are eye-catching, they are worthy of being installed on your device, and most importantly, they're plentiful!
Come hell or high water, we don't intend to "give the boot" to our new icons posts every two weeks. This week is no different by any means - simply scroll down and you will find the noteworthy spic-and-span icon packs that have stormed the Play Store during the last fortnight.
Inspired by nature, with "squircle-shaped" icons, Squarrel is touted as a pinnacle design comprising iOS's skeumorphism, Google's Material Design, and the flat looks that have been trendy of late. It consists of more than 1,150 icons, but worry not, icon masking is also on board, so you will hardly find an unmasked icon.
Nucleo has more than 3,500 icons in store, which is a spectacular amount and means that you are quite unlikely to encounter an unthemed app. As far as design goes, it is unmistakably Material Design inspired, with clean and colorful icons.
Matericons
This flat icon pack offers more than 470 icons on board, 26 cloud-based wallpapers, dark and light themes for all icons and other nifty features. It's based on the Material Design guidelines, but with a unique twist - most of the icons are transparent and allow you to see tidbits of the wallpaper right beneath them
Articon
Articon is an unorthodox icon pack that certainly stands out. At first sight, it employs crude hand-drawn graphics, but take a closer look and you will see that it's actually a well-thought offering for your home screen.
Caricon
Shipping with some 600 high-quality icons, Caricon aims to focus on quality instead of quantity. The icons are simple, but nonetheless, quite impressive.
Lumix UI
With 1,100 icons on board, Lumix UI has a large tally of colorful icons that will breathe new life to your home screen.