Best new icon packs for Android (May 2016)
5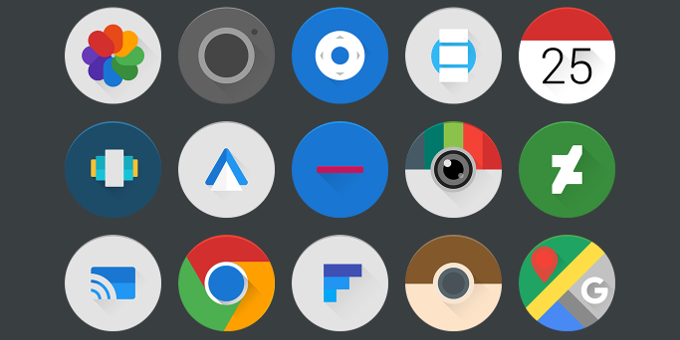 With an icon pack, you can easily transform the interface of your Android device from "boring" to "AWESOME" in mere moments.
As you certainly know, this quick and easy overhaul requires you to have a custom launcher, but it's totally worth it, we promise! We love icon packs and we are certain many of you do so, too!
After all, it can't be argued that the default icons phone manufacturers and app developers treat us to are not exactly the best-looking fruit in the bowl.

As we adore icon packs (actually, who doesn't?), we've taken upon ourselves to show you the best new ones that have stormed the Play Store and attracted our attention. We've been rounding these in a post every two weeks or so for over a year now, and we've stumbled upon many gorgeous icon packs.
Smugy UI
Remember Symbian Belle? We certainly do and Smugy UI is making us feel nostalgic. For one, it is heavily inspired by Symbian Belle and arrives with over 4,200 "squircle" icons aboard, with full support for stock icons, as well as a large amount of cloud-stored wallpapers that perfectly match with the theme of the icon pack.
Modern Icons
A whole lot of over 3,000 icons make Modern Icons a worthy pick for those who want to be sure there will be no unthemed app on their home screens. Modern Icons arrives with a greenish theme retro theme that will look great alongside a matching wallpaper.
Celandia
With a clean and simplistic design, Celandia is standing out among the rest of the sophisticated icon packs around. We definitely like this one despite the fact it only has 1,079 icons aboard. Yes, there are not as many as we'd like them to be, but rest assured each one aboard is a well-designed one.
Play
Recently, Google changed the iconography of some of its Play apps and unified them under a common triangular theme. In case you liked that change, you can now apply it to all of your icons thanks to this icon pack - Play will overhaul all of your icons with а new triangular theme that you will most probably like.
Ultimato
Red and silver are the two protagonists in Ultimato, beautifully intertwining together and creating some pretty good-looking icons. We can definitely see this one fit a silvery-red desktop theme. What's your excuse for not making one?
Perseus UI
With the hefty amount of more than 1,560 icons on board, Perseus UI brings in the beauty of simplistic square designs. In case you're into simple yet beautiful icons, you might want to check out Perseus UI.
Krix
Krix arrives with 1,715 icons that are suited for Quad HD displays - each of the icons is 256 pixels high and 256 pixels wide, making them a perfect fit for those oh-so-gorgeous 2K displays out there. Apart from this, they are also pretty stunning.