Best new icon packs for Android (March 2016) #2
2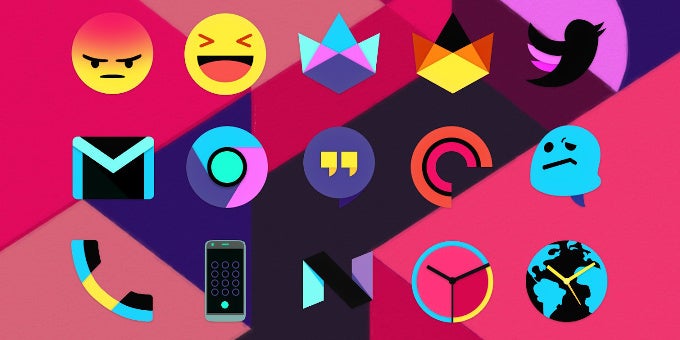 Ever wondered what's the fastest way to breathe new life into your Android phone, and more specifically into its interface looks? There is a quick and easy answer to this question - the fastest way to spice things up is by getting a custom launcher and employing a custom icon pack! We love these, and you should do, too! After all, within minutes you can transform your dull UI into something different and exciting, like this one.
As we adore icon packs (actually, who doesn't?), we've taken upon ourselves to show you the best new ones that have stormed the Play Store and attracted our attention. We've been rounding these in a post every two weeks or so for over a year now, and we've stumbled upon many gorgeous icon packs. We are glad to share, so be our guests!
Elvan
Elvan is colorful, interesting, and everything a nice icon pack should be. Only six colors make up this icon pack, but that's more than sufficient to create a design that clearly stands out. You get more than 600 icons with Elvan, as well as 33 wallpapers, as well as an icon request tool.
Atomic
Atomic arrives with more than 1,300 neony icons that are bright, vivid, and everything but subtle. Put them on your homescreen and they will steal the show.
Fabricon
Ever wanted icons that look like stitched fabric? Chances are you haven't, but regardless, Fabricon is here to provide! You get 751 icons with a pretty unusual design, which is by no means bad. Actually, we like them, and so might you.
Retron UI
We are suckers for good retro-themed icon packs, and while Retron is not the absolute best example of such, it's a welcome addition to the icon scene. There are close to 2,500 icons in Retron, as well as 37 matching wallpapers.
Briq
Download ($1.40)
Do you like square-ish icons? If yes, then Briq might float your boat! There are merely 400 icons in the first version of the app, but they will probably grow in numbers as time unfolds.
Dobrado
This icon pack comes with over 430 vector icons on board, all of which are of high, 256 by 256-pixel resolution. You also get 32 wallpapers and 4 Zooper widgets, as well as a dynamic calendar, a clock widget, and a Muzei live wallpaper support.
Chocberry
Love strawberries? Like chocolate? Of course you do! Chocberry combines these in a tasty package that brings more than 3,200 icons on your plate. Yum!