Best new icon packs for Android (March 2015)
8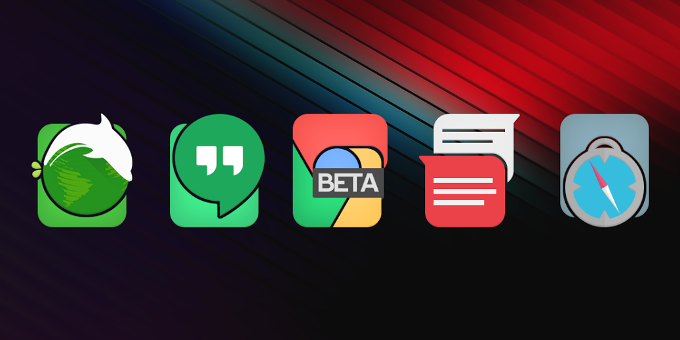 One can't simply disregard Android's greatest asset, one of its main selling points - customization. One of the easier ways to refresh your device's UI and give it a new look is by changing your icon pack.
There are a lot of quite awesome and intriguing icon packs for Android - normally, a handful of noteworthy ones appear on Google Play each and every day. However, keeping tabs on all of these is quite a cumbersome task, even for those who are into such things. Luckily, you have us, and we are regularly providing you with the icon packs that you shouldn't miss.
Have in mind that you'd normally need a third-party launcher in order to change your stock icons with some of the beautiful ones below (we've listed the compatible launchers for each icon pack).
Circolium
This icon pack boasts more than 3,600 custom icons, 3 dynamic calendar icons, icon masking. Multiple launchers are supported.
Vento
Roughly 900 icons are included inside Vento. More than 20 wallpapers, as well as dynamic calendar icons are also present. You can use it with the more popular launchers out there.

Cutboard
This icon pack comes with "over 2000 high-definition icons made from impeccable vectors to achieve the highest resolution on your screen". Compatible with the following launchers: Nova, Action, Apex, Holo, Smart, Aviate, Inspire, ADW, Next, Atom, Nine, Solo, Tsf, Go, Lucid, and others.
Strip UI
You'd find 3,075 icons inside with cloud-based high-res wallpapers. Icon masking is also present.
Popsicle Icon Pack
Inside, you'll find 300 different icons, a Material Design dashboard, as well as an icon request tool. A few wallpapers have been also added to the mix.
Quadra comes with 580+ icons, as well as 15 high-res wallpapers. The supported launchers are Nova, Action, Apex, Holo, Smart, Aviate, Inspire, ADW, Next, Atom, Nine, Solo, Tsf, Go, Lucid, and many others.
Aylin Lite
This icon pack comes with 1300+ icons, numerous wallpapers, icon masking, and support for multiple launchers.

Ponoco
Ponoco comes with 775 handmade icons as well as 44 cloud-based wallpapers. Many popular launchers are supported.
Phix
Phix comes with more than 1450+ icons, 20 custom wallpapers, support for Muzei wallpaper, and two custom Zooper widgets.
Mineral
As the developer puts it, Mineral comes with "over 700 hand-crafted icons" that are "designed to be in touch with Mother Nature".