Best new icon packs for Android (March 2015) #2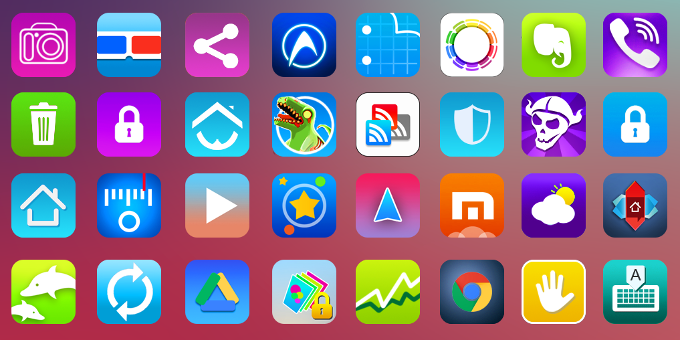 One can't simply disregard Android's greatest asset, one of its main selling points - customization. One of the easier ways to refresh your device's UI and give it a new look is by changing your icon pack.
There are a lot of quite awesome and intriguing icon packs for Android - normally, a handful of noteworthy ones appear on Google Play each and every day. However, keeping tabs on all of these is quite a cumbersome task, even for those who are into such things. Luckily, you have us, and we are regularly providing you with the icon packs that you shouldn't miss.
Zarys
This icon pack commands over 2,040 icons that have been optimized for Quad HD displays, supports icon masking, and has a dynamic calendar support. You can use it alongside Nova, Apex, Action, Aviate, Themer, Smart, Atom, Inspire, KK, Solo, Holo, ADW, Nine, and other launchers.
Kiwi UI
Inside you'll find 2,000 icons, custom skin and dock, icon request tool, and other nifty goodies. Of course, using it will require one of the more popular launchers or icon-centric tools (XGELS, Unicon, etc.)
Glim Dark
Glim Dark boasts shy of 2,000 icons, differently-colored versions of many icons, support for Muzei (a popular live wallpaper), cloud-based wallpaper picker, and more.
Sharped
This Material Design-inspired icon pack boasts more than 480 icons that will bring a pretty unique flavor to your smartphone's home screen. It's available for multiple launchers (just as any other icon pack).
You'll find over 700 round icons inside this icon pack. If you dig its looks, don't miss the chance to get it, as it's currently sold at half the price!
PaperCUT
PaperCUT boasts some 2,725 icons and a handful of wallpaper with a pretty high resolution. If you have an app that is not supported by the icon pack, fret not, as it boasts icon masking. Naturally, it can be used alongside your favorite popular launcher of choice (Nova, Apex, dodol, Smart Launcher, etc).
Bliss
Bliss comes with over 1,000 icons, 20 wallpapers, and dynamic calendar support. It is supported by multiple launchers.
Melon UI
Hole Black
With Hole Black, you can treat your trusty Android machine with more than 2,000 different icons and wallpapers. Doing this will require a custom launcher, of course - any of the popular ones will suffice.
Fresh Flat boasts over 700 colorful icons that is compatible with a multitude of launchers. Good news if you like it, as it's currently on sale and dons a reduced price tag.