Best new icon packs for Android (January 2019)
1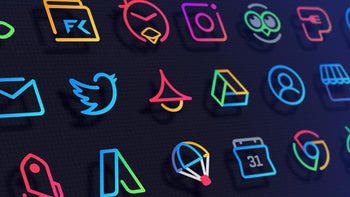 One of the easiest ways to breathe in new life in your phone's interface is by giving it an icon overhaul. There are already a great lot of totally awesome and beautiful icon packs for Android.
But this abundance of notable icon packs does not mean that a handful of noteworthy ones don't appear on Google Play each and every day - on the contrary, at least one collection of icons gets released each day. However, keeping tabs on all of these is quite a cumbersome task, even for those who are into such things.
This is why we regularly show you the icon packs that have recently made their way to the Play Store and deserve your attention. Have in mind that you'd normally need a third-party launcher in order to change your stock icons with some of the beautiful suites right. Note that as a rule of thumb these are usually compatible with all third-party launchers that support icon packs, such as Nova, Apex, etc.
LineX
LineX is an extremely appealing icon pack that had this retro 80s neon look which is extremely trendy as of late. Channel your inner Blade Runner with the 1,950+ icons on deck and dress your Android device in a flashy new coat with LineX.
Enix is a very detailed, colorful icon pack that comes along with 400+ icons and tons of cloud-based wallpapers on deck. The icons are not that minimalistic, which is in stark contrast with the majority of popular icon packs out there, but their-overly detailed appearance is definitely a breath of fresh air that could
Linebit Light
The very trendy Linebit icon pack that we featured a few months ago is now available in an uniform white color scheme, suitable for extremely dark backgrounds. Wink, wink, OLED users!
Ruzits
This circular icon pack consists of merely a little over 200 icons, but you can rest assured all of these are all drawn beautifully and would fit nicely in just about any homescreen setup you might have going on your phone.
Circular and very vibrant, OxyPie hauls over 4,000 icons, which is enough to cover the needs of just about anyone. Additionally, the icon pack contains alternative icons for some of the more popular apps inside, giving users more control.
In case you're digging the looks of Samsung's OneUI interface, you can sort of emulate its general appearance by applying this icon pack to your phone's launcher. It doesn't look half bad, does it?