Best new icon packs for Android (January 2017)
6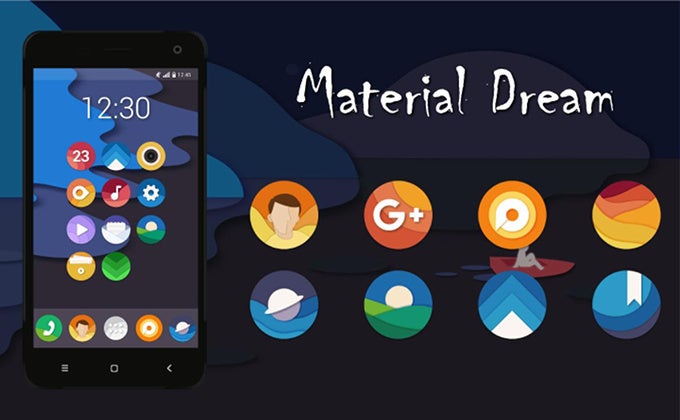 In case you've been around long enough, you've surely noticed that we here at PhoneArena are suckers for outstanding Android icon packs. There's just something extremely alluring to a well-made icon pack as it just makes everything fall into place.
With Google Play seeping from the cracks with new icon packs every week or so, we've taken upon ourselves to separate the wheat from the chaff and highlight the notable new icon packs that grace Android. Oh, and by the way, you can now use custom icon packs with Android launcher, even stock ones -
here's how
.

Here is our take on the best new icon packs that hit the Play Store for the past 30 days or so.
Material Dream
With over 1,000 icons on board, Material Dream will likely contain icons for all the apps you have on your phone, provided that these are not obscure ones. Almost all of the icons inside Material Dream are circular and look pretty good, employing a distinct and rather appealing color palette.
Infinite Dark
Do you like round icons? You better do! Priced at a buck, Infinite Dark comes with a whole lot of 2,900 icons which are simple, colorful, and definitely deserving of finding their way straight to your Android smartphone.
Axent
We know, we know, you've already seen tons and tons of icon packs that employ Google's Material Design guidelines, but new ones are always welcome, especially if they are as well-made as Axent. It's simple, non-pretentious, and we imagine that it will look great paired with whatever theme you might have in mind for your device.
Do you like neon? While we are not raving fans of those, we know a good icon pack when we see one. Soleos is just the thing you might want to get if you have a neon-y theme in mind. Its circular shape and bold vivid colors make it a great new icon pack. You will find 591 icons on board as well as 40 high-res wallpapers and a couple of Zooper and KWGT widget templates.
Round Flat
And finally, we decided to include a free icon pack that is nothing exceptional but covers the bare aesthetic minimum we're after. You will find a total of 1,500 icons inside this one as well as 10 wallpapers that you can use as you please. Here are a few screenshots that show what Round Flat is and what it isn't.