Best new icon packs for Android (January 2016)
0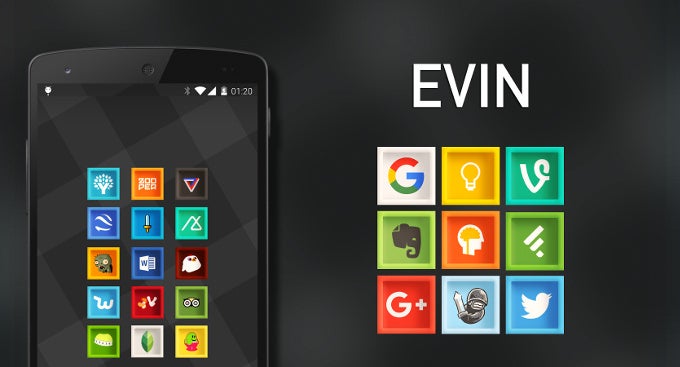 2016 is in, but traditions are here to stay. If you've been sticking around, you've most certainly encountered one of our regular columns, namely the bi-weekly one that showcases all the new and noteworthy icon packs for Android. Yes, we've been scouring the Play Store for new icon suites and sifting the wheat from the chaff.
Changing the icon pack of your Android device and giving the UI a fresh new look is as easy as 1-2-3. There are just a couple of prerequisites that need to be met - you need a 3rd-party launcher that supports such a cosmetic overhaul, and, of course, an icon pack that grasps your attention.
Here follow the notable new icon packs that grasped out attention. Make sure to check out our previous picks in the timeline right beneath the last gallery.
This icon pack features more than 3,285 vividly-colored, square-shaped icons, with alternative icons for some of the more popular apps. These are quite good-looking, to be honest, and one of the best new icon packs you can snatch for a buck. Apart from the large amount of icons, Evin also comes with 10 high-res wallpapers fit for Quad HD displays on board. This icon pack also has icon masking feature, which will "theme" the icons of any apps that are not featured in this noteworthy icon pack.
Illumin UI
With its rounded corners, this mostly minimalist icon pack is a real head-turner. The color palette is not of the "in-your-face" type, featuring subdued pastel-like hues that stand out with their low profile. There are more than 1,400 icons inside Illumin UI, all of which 192 by 192 pixels in size. There's an online cloud-based wallpaper picker on board, allowing you to easily snatch a background that perfectly matches with the icon pack.
Evox
Evox features a large amount of icons on board - more than 3,700, to be exact. Many of these are alternative ones for a given app, but still, Evox is one of the largest new icon packs in terms of sheer numbers. The design language of this icon pack is comic book-like, with dark oversaturated colors and accentuated edges. There is also dynamic calendar support on board, which means that as the days pass by the icons of certain calendar apps like Today Calendar and Google Calendar, as well as all stock calendar apps will update accordingly.