Best new icon packs for Android (February 2018)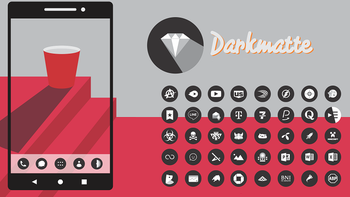 New year, new resolutions, and in our case, new icon packs!
While the vast majority of Android consumers use their devices without customizing these at all, a smaller group of Android enthusiasts can hardly go for more than a week before overhauling the appearance of their homescreens. What can we say, we are guilty of that as well! Thanks to the multitude of icon packs arriving weekly on the Play Store, that's as easy as abc.
This is why we regularly show you the icon packs that have recently made their way to the Play Store and deserve your attention. Have in mind that you'd normally need a third-party launcher in order to change your stock icons with some of the beautiful suites right. Note that as a rule of thumb these are usually compatible with all third-party launchers that support icon packs, such as Nova, Apex, etc.
Here follow the best new ones that have made it to the Play Store for the month of February 2018.
Zorun
Circular and vibrant, Zorun is an icon pack that looks super good. There are already 1,150 flat icons on board and this number will only grow as the developer promises weekly updates. We are quite okay with that. The app costs a dollar and that's quite an acceptable price for what you get.
Darkmatte
You can never go wrong with black and white, and if you're anything like us, you probably love icon packs that combine the two classic monochrome colors. Circular and looking trendy from the get-go, Darkmatte is a pack with over a 1,000 icons bundled inside, supports icon masking, and has a ton of wallpapers included. Best of all? The launcher costs nothing meaning that you can freely try it out.
Here we have yet another circular icon pack that should fit well into your flat setups. And icons, you will get a lot - there are more than 2,800 icon inside, meaning that whatever apps you might have installed they will most likely get themed. The price of admission to find out if this will be correct is $1.49.
Color Paper
Color Paper is an intriguing icon pack, that's for sure - it emulates crumpled paper and could easily become your next favorite icon pack if you're into... such kind of stuff. We know we do and the fact that you get a whole lot of 1,150+ icons for your dollar is making the deal even sweeter.
Hexagon
Hexagon icon packs have somewhat fallen out of fashion lately, but this simply means that new ones of the type shine out more than the rest. That's precisely the case with Hexagon, a rather aesthetically-pleasing icon pack that just looks great. More than 1,500 high-res icons are included in it, which is perfect!
Finally, we have Vlyaricons - a novel new icon pack that's unlike anything we've seen before. It's sufficiently intriguing to steal our gaze from many other run-of-the-mill icon packs with its intriguing icon shape that is a sight to behold. Best of all, it's free!