Best new icon packs for Android (February 2017)
1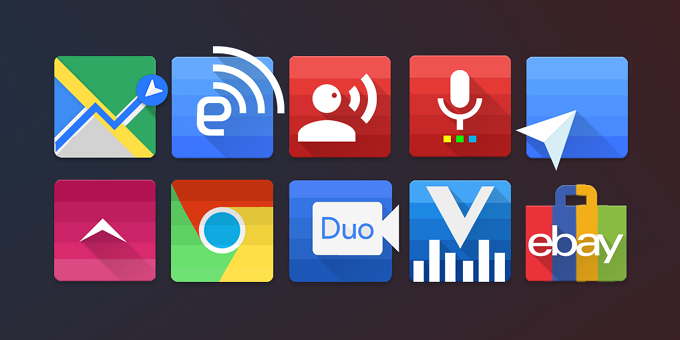 In case you've been around long enough, you've surely noticed that we here at PhoneArena are suckers for outstanding Android icon packs. There's just something extremely alluring to a well-made icon pack as it just makes everything fall into place.
With Google Play seeping from the cracks with new icon packs every week or so, we've taken upon ourselves to separate the wheat from the chaff and highlight the notable new icon packs that grace Android. Oh, and by the way, you can now use custom icon packs with Android launcher, even stock ones - here's how.
Here's what notable new icon packs have hit the Play Store in the past two weeks, give or take.
Apollo
With its uniform looks and pleasing color palette, we will be really surprised if Apollo doesn't become popular among avid customization fans. There are over 2,125 icons on board this one, with high-res wallpapers and full Muzei support. Definitely worth the admission fee!
Graby
Download ($0.99)
Graby is an icon pack that definitely resembles multiple others when it comes to looks alone. The lack of uniqueness is not bad, though - Graby looks great and arrives with tons of icons on board (over 1,720, to be exact), so it's a great pick.
Popular icon developer Fraom is back at it with the neat icon packs. Their newest icon pack is called Nucleo Vintage, has some 4,600 icons on board, and is rather neat. Aside from the large amounts of green-tinted icons, Nucleo Vintage also comes with a bunch of great wallpapers and is getting updated with new content every week or so.
Vento
Vento is an icon pack that you'll either love or hate at first sight. With its squarish shape and appealing color gradients, it's a great icon pack for those who like to stick to the basics.
Pix Up
This is not the first and certainly won't be the last
Pixel
-inspired icon pack to hit us. And we are definitely not complaining! Pix Up is an excellent icon pack comprising over 2,400 icons that employ slightly desaturated soft colors and are a pleasure to look at. You can also pick amongst various versions of icons for some of the more popular apps. All in all, a great icon pack that's worth checking out.