Best new icon packs for Android (December 2018)
1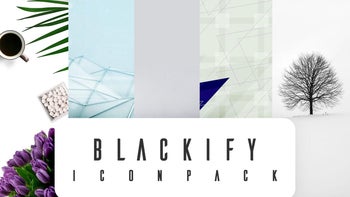 While the vast majority of Android consumers use their devices without customizing these at all, a smaller group of Android enthusiasts can hardly go for more than a week before overhauling the appearance of their homescreens. What can we say, we are guilty of that as well! Thanks to the multitude of icon packs arriving weekly on the Play Store, that's as easy as a pie.
This is why we regularly show you the icon packs that have recently made their way to the Play Store and deserve your attention. Have in mind that you'd normally need a third-party launcher in order to change your stock icons with some of the beautiful suites right. Note that as a rule of thumb these are usually compatible with all third-party launchers that support icon packs, such as Nova, Apex, etc.
Here follow the best new ones that are available on the Play Store in December 2018.
Simplit
Simplit is an icon pack that stays very true to its name. It's both simplistic and subtle in its overall presentation, but has a very relaxing and stylish look that makes it oh-so-pleasing to ogle at. If you have to get one new icon pack this month, Simplit should certainly be on the very top of your list.
Ubuntu Touch
Even those not well-versed in the popular Linux distro are very likely to like this icon pack, which pays homage to the appearance of Ubuntu and Ubuntu Touch. It's not as unique as other icon packs in this list, but it's very well-done and definitely deserves a mention.
Precise
This one comes along with over 2,200 icons on deck. Round and minimalistic, Precise is an icon pack that looks stylish without being overly-quirky. An excellent pick that's a safe bet for just about any homescreen theme you might be having in mind. Certainly a must-have at the asked price of $0.99!
One UI 9.0
Samsung will overhaul the stock icon pack of its Samsung Experience interface with Android Pie, but not all devices will get this update. One way of getting the new icons on your device is by outfitting your device with this icon pack. Fittingly dubbed One UI 9.0, it features the very same general design language that Samsung is about to make official very soon.
Ortus

This pack comes along with 1,100 icons on deck, all of which have that distinct cartoon-y design language to them. Aside from being very simplistic in its overall presentation, this icon pack also has a slightly muted overall color scheme, which works a treat and leaves a pastell-y impression on us. You can check this one by shelling out $0.99.
Blackify
This free icon pack comes along with a trove of "darkened" icons that aim for a more toned-down look. It's supposed to be used alongside the included mostly-white wallpapers, which might not sit very well with users of AMOLED devices. Still, it's worth checking this icon pack out.
Zeref is our monthly "haute couture" pick for an excelling icon pack. There are merely 316 handcrafted icons in its current release, and while that number is set to grow with future updates, most users might not be willing to shell $1.49 out for merely 300 or so icons. Still, the sheer quality of the icons on deck is totally redeeming the price of admission. The excellent hand-crafted icons are truly a joy to look at.