Best new icon packs for Android (August 2016)
2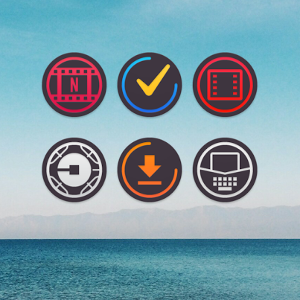 With an icon pack, you can easily transform the interface of your Android device from "boring" to simply "AWESOME" in mere moments.
As you certainly know, this quick and easy overhaul requires you to have a custom launcher, but it's totally worth it, we promise! We love icon packs and we are certain many of you do so, too!
After all, it can't be argued that the default icons phone manufacturers and app developers treat us to are not exactly the best-looking fruit in the bowl.
As we adore icon packs (actually, who doesn't?), we've taken upon ourselves to show you the best new ones that have stormed the Play Store and attracted our attention. We've been rounding these in a post every two weeks or so for over a year now, and we've stumbled upon many gorgeous icon packs.
Faux
Faux has it all - pleasant and definitely good-looking icons that employ the fundamental Material Design guidelines and will make you admire your home screen. There are over 600 icons on board, with a good selection of matching wallpapers, as well as support for 24 different launchers.
Nougat
Android Nougat will be here by summer's end, but if you're eager to transform your device into a Nougat-running one, then you can give this icon pack a spin.
Ceres
There is something that makes circular icons so appealing, though we are not sure what that is. Probably the implied sense of infinity or simply the aesthetical looks that go along quite nicely with any theme? We are not sure. We only know that Ceres is an excellent free icon pack!
Note 7
The Galaxy Note 7 is here and among the several new features on board is an updated interface, which features slightly redesigned icons. Thanks to this icon pack, you can transform your phone into a Note 7... sort of.
ARK
Oh, look, another spellbinding circular icon pack that you should definitely consider if you're into such icon packs. ARK is described as being a mixture between iOS and Tizen in terms of looks. It boasts 590 icons, 20 or wallpapers, dynamically changing calendar icons, and more.
dARK
If you like the looks of ARK, but want to have it in a darker theme, then dARK is, logically, the icon pack you should get! It also comes with more than 590 icons on board, which are mostly similar to ARK in terms of design and shape.
Toro
Toro looks like just a bunch of those old-school plastic cutouts that we used to glue on our notebooks back at school. Toro arrives with the staggering amount of 3,800 icons on board, which would make it a must-have for all those Android users with lots and lots of popular and niche apps.