Best new icon packs for Android (April 2017)
4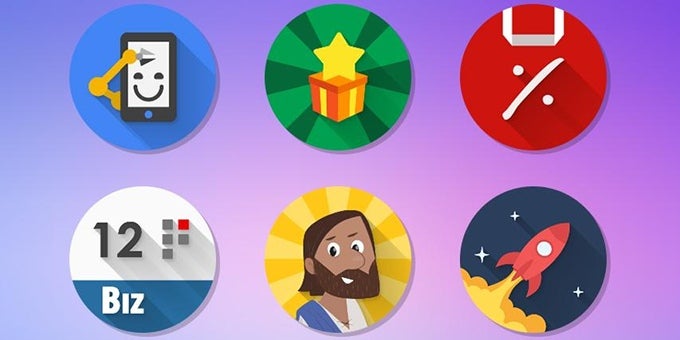 Got a custom launcher? If the answer to that question is "yes", then you're also probably dabbling with custom icon packs as well. Depending on your tastes, these will either greatly improve the looks of your interface or create a despicable mess of unsightly elements that mar your home screen.

As we want to help you avoid the latter scenario at all costs, we always strive to provide you with the best new icon packs that hit the Play Store on a regular basis. Here's a bunch of cool new ones that arrived on the store in the past fortnight or so.
Pixbit
Name something superior to
pixel
art, we'll wait. Pixbit is the latest icon pack to arrive and pay homage to the good 8-bit graphics of old we've grown alongside. With Pixbit, you will be able to enjoy over a thousand beautiful icons that will make your phone feel like an old-school gadget. There are matching wallpapers as well - pixel art extravaganza!
This one introduces a fresh new set of icons that's inspired by the fresh new Android O, a developer preview of which got released a month ago. It's round, it's conforming to the Material Design guidelines of old, and in general, it looks nice! You can get it way cheaper than what you'd pay for a tall iced coffee over at Starbucks.
Boekt
Boekt might not come along with a whole ton of icons, but we'd say that the on-board ones are generally a pretty bunch. They all look similar to their stock counterparts yet have that pinch of uniqueness that makes them an interesting offering.
Minimalist
With some 1,400 icons and 25 wallpapers on board, Minimalist arrives with an eye-pleasing color palette and instills a peculiar feeling of familiarity. It has a lot in common with many of the more popular icon packs out there, yet still succeeds to maintain a healthy dose of incremental features that make it a unique offering. Don't miss.
TouchWiz S8
Hey, are you digging the looks of Galaxy S8's stock interface? Chances are that you're liking how Samsung's revamps went through, and now there's a way to employ a similar-looking theme on any Android phone out there thanks to this one icon pack.
Strokes
The distinct looks of Strokes might easily put you off at first sight, but you might end up liking it! There are tons of sketchy (in the good way!) icons on deck, all of which will match pretty well with a fitting wallpaper.
New Pixel
Paying some serious homage to the Pixel/Pixel XL's distinct round-shaped icons. Unlike the Pixels' ones, you can get this icon pack on any Android device, granted that you're liking it and have a dollar to spend.
Aquacolor
Here's another aesthetical icon pack. Aquacolor is all about hand-drawn icons and looks like something a 6th-grade student would draw at the back of their notebooks during chemistry classes. Regardless, we're digging the looks of that one. You can, too, provided that you're willing to part with some coin.